October 19, 2011
Award-winning fiction writer Manuel Muñoz to read at K-State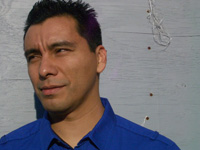 Award-winning fiction writer Manuel Muñoz will read from his work at 3:30 p.m. Friday, Oct. 21, in the K-State Student Union Little Theater.
Muñoz has received fellowships from the National Endowment for the Arts and the New York Foundation for the Arts, and he is a recipient of a 2008 Whiting Writers' Award and a 2009 PEN/O. Henry Award for his story "Tell Him About Brother John." His work has appeared in several publications, including the New York Times and Glimmer Train, and has aired on National Public Radio's "Selected Shorts." A native of Dinuba, Calif., Muñoz graduated from Harvard University and received his master of fine arts in creative writing from Cornell University.
"For any student of fiction, or anyone interested in contemporary writing, his work is complex and rewarding," says Katy Karlin, assistant professor of creative writing.
Muñoz's latest novel, "What You See in the Dark," weaves together Hollywood and small-town California by focusing on the lives of women: Janet Leigh, the star of Alfred Hitchcock's "Psycho"; Teresa, a lonely Mexican American young woman who wants love and a music career; and Arlene Watson, a waitress and motel owner. The central story involves a murder mystery that reflects on love and the violence done to women.

"The focus on small-town life provides a lot of connections between California and Kansas that readers may otherwise not realize," explains Tanya Gonzalez, associate professor of English. "The novel is very much about a sense of place, and how people, regardless of if they are a Hollywood movie star or a shoe store clerk, are connected in very powerful ways."
The reading is sponsored by the department of English, the Creative Writing Enthusiasts, the LGBT Resource Center and the Dow Multicultural Resource Center.