May 9, 2017
K-State Soil Judging Team takes second in national competition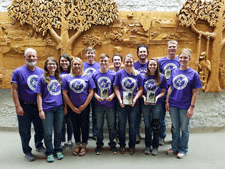 K-State's Soil Judging Team won second place in the Overall Team and second place in the Group Judging categories at the 2017 National Collegiate Soils Contest, April 23-28, hosted by Northern Illinois University in DeKalb, Illinois.
Erin Bush, graduate student in agronomy, Franklin, Indiana, placed second in the individual competition, and Chris Weber, junior in agronomy, Hoxie, placed seventh in the individual competition.
The following agronomy students are members of the Soil Judging Team:
Peter Bergkamp, freshman, Garden Plain; Logan Evers, junior, Great Bend; Keren Duerksen, sophomore, Newton; Lucas Scott, freshman, Olathe; Tessa Zee, junior in agronomy, Erie, Colorado; Jacob Reinecker, junior, Caldwell, Idaho; Megan Owens, freshman, Harlan, Iowa; and Tara Wilson, sophomore, Highland, Michigan.
Mickey Ransom, professor of agronomy, serves as coach for the team and Kim Kerschen, agronomy instructor and academic coordinator, serves as assistant coach.
The contest is an activity of the American Society of Agronomy and the Soil Science Society of America. Twenty-four teams from all over the U.S. participated in the competition.