May 4, 2017
Kansas State University's Powercat Financial receives State Farm Insurance grant award
State Farm Insurance, through the Kansas State University Foundation, recently awarded a $15,000 State Farm Good Neighbor Citizenship Grant to Kansas State University's Powercat Financial.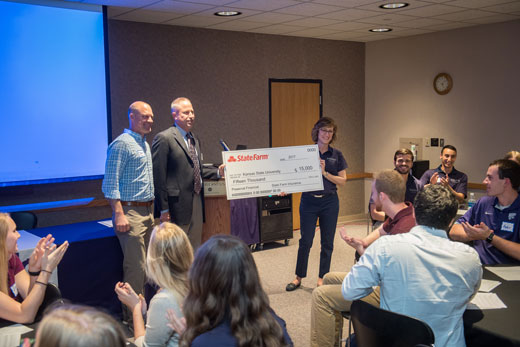 The grant is awarded to organizations that foster service-learning opportunities and personal financial education such as the university's Powercat Financial Counseling. Since 2009, the program has provided students with free financial counseling and education via a peer model where students from finance-related majors are trained to assist fellow students. State Farm has previously provided grants to Powercat Financial in each of the last seven years totaling $94,000.
Kansas state Sen. Tom Hawk and Rep. Tom Phillips attended the award presentation to support the efforts of State Farm and Powercat Financial in increasing student financial capability.
"The State Farm grants have been critical to sustain our robust financial education programs at K-State," said Jodi Kaus, director of Powercat Financial. "With our newly dedicated financial counseling space on the Union's third floor we are able to expand services and the grant will allow us to assist more students with their finances."