May 1, 2017
Pioneering spirit: Australian researcher, expert on Antarctica visits K-State through Oz to Oz program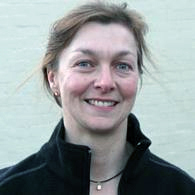 Anya Reading, a senior scholar with the Australian-American Fulbright Commission, will visit Kansas State University May 3-5 as part of the Oz to Oz program.
Reading, who is a professor of geophysics and graduate research coordinator at the University of Tasmania, will present a seminar about the deep geological structure of Antarctica at 4 p.m. Thursday, May 4, in 213 Thompson Hall.
"I've spent eight seasons in the Antarctic, collecting seismological and other geophysical data, so I know the value of hard-won data and am excited to share about my findings," Reading said.
Reading compared her data acquisition methods to the process of making a CT scan of a human head using X-rays. Like the work of a radiologist, Reading's research captures data from beneath the surface, but she uses seismic energy instead of X-rays to capture the deep structure of the Antarctic continent.
Claudia Adam, assistant professor of geology at K-State, said Reading is a kind of pioneer because of the way she and her team have applied computational methods to earth sciences data.
During Reading's visit to K-State, she plans to visit with students and faculty in the geology and computer science departments, as well as officials and administrators from K-State Global Campus and the Office of International Programs.
"I'm committed to diversity and equity in science, mathematics and engineering, so I want to encourage anyone who loves those subjects to follow their passion for understanding how the world works," Reading said. "K-State has built a great connection with Australia, and I'm looking forward to finding out about K-State's innovations in teaching, earth sciences and computing — the research areas I enjoy the most."
Reading is a member of the Australian Academy of Science's National Committee for Earth Sciences and served on the University of Tasmania Academic Senate from 2012-2015. She was a guest editor for Physics Education, an editorial board member and associate editor for the Australian Journal of Earth Sciences and a member of a group of experts for the Scientific Committee on Antarctic Research.
She has published about 50 papers in a variety of geophysical and interdisciplinary earth sciences journals. She has presented by invitation at the American Geophysical Union Fall Meeting in San Francisco three times; in Adelaide, Australia, twice; and in Golden, Colorado, twice. She also presented by invitation at the University of Queensland in Brisbane, Australia, and the Geological Survey of Western Australia in Perth, Australia.
Reading earned her bachelor's degree in astrophysics and geophysics from the University of Edinburgh in the U.K. She earned her doctoral degree from the University of Leeds in the U.K. Before joining the University of Tasmania, she was a field scientist for the British Antarctic Survey and a fellow at the Australian National University.
To schedule a visit with Reading during her time at K-State, contact Adam at cadam@k-state.edu or 785-532-2242.
The Oz to Oz program establishes working relationships between researchers from K-State and Australia. The program sends faculty from K-State to Australia and hosts Australian Fulbright scholars at K-State. Visiting faculty present their research through seminar presentations and connect with host faculty members.
The Fulbright Visiting Scholar Program provides faculty and professionals from around the world grants to conduct research and lecture in the U.S. The prestigious Fulbright program is the largest educational scholarship of its kind and was created by U.S. Sen. J. William Fulbright and the U.S. government in 1946. With the goal of promoting mutual understanding through educational exchange, the program operates between the U.S. and 155 countries.