May 2, 2012
Winners announced for the 2012 President's Award of Excellence for Unclassified Professionals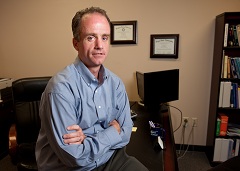 Four staff members are receiving the 2012 President's Award of Excellence for Unclassified Professionals. Each winner receives a $1,000 award and recognition at a reception hosted by President Schulz.
Today we spotlight the recipient of the Distinguished Accomplishment Award, McArthur Hafen Jr., counselor in the College of Veterinary Medicine dean's office. He was nominated by Bonnie Rush, head of the department of clinical sciences.
Hafen provides counselor service for veterinary students, staff and grieving clients. His responsibilities have grown from counseling services, to generating scholarship and delivering a key piece of the college's curriculum. Hafen provides counseling services dealing with the primary student concerns of self-esteem, adjustment to workload, relationship management and generalized anxiety. He developed the only communication training program among North American veterinary colleges that involves live-client interaction within the fourth year of the curriculum.
Hafen has published several refereed journal articles in the area of teaching and communication training for veterinary students.
According to Rush, Hafen has been proactive and creative in his contributions to service, scholarship and teaching for the College of Veterinary Medicine. His service has improved the lives of the professional students, his communication training program provides a critical function for the college and profession, and his research has raised awareness of the impact of the training program on the students. He consistently exceeds expectations for productivity and his work has resulted in attitudinal and cultural change by faculty, staff and administration.