January 17, 2017
New financial education center opens for Powercat Financial in K-State Student Union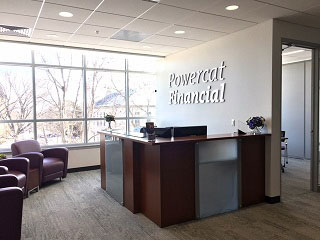 Kansas State University is one of a select few universities in the country to create a state-of-the-art center for students to receive free peer-to-peer training and insight on personal financial management topics. With the move to its new space on the third floor of the K-State Student Union, Powercat Financial Counseling will now become Powercat Financial.
The new center offers students a dedicated space to learn from peers about how to budget, save, build credit, understand student loans, review job benefits and manage the college financial planning process. Access to the Union's third floor can only be obtained by using either the stairs or elevator on the northeast side of the Union across from the Little Theatre.
The center was enhanced with state-of-the-art amenities thanks to the generous support of K-State alumni, Jim and Marsha Reed, of Reed Financial Services in Beachwood, Ohio. Additional funding for technology for the new space came in part from a State Farm Insurance grant.
Open houses will be scheduled for students and staff to see the new space and learn about the financial services. Students are encouraged to stop by with any financial-related questions they need assistance with or may schedule a free appointment with a peer financial counselor at k-state.edu/powercatfinancial.
Contact Powercat Financial at powercatfinancial@k-state.edu or 785-532-2889 for further information about the program and its free services for students.