January 12, 2017
Hale Library Concert Series celebrates pioneering composer Amy Cheney Beach
Submitted by Sarah McGreer Hoyt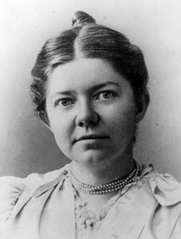 The Hale Library Concert Series kicks off Jan. 27 with a tribute to Amy Cheney Beach, 1867-1944, America's first great female composer. K-State's School of Music, Theatre, and Dance faculty and staff members Amy Rosine, soprano; Amanda Arrington, piano; and Karen Large, flute, will perform in celebration of the 150th anniversary of Beach's birth. The concert will feature some of her best-loved songs, piano pieces and chamber music performances.
Presented by the Friends of the K-State Libraries, all Hale Library Concert Series events begin at 7:30 p.m. on Hale Library's fifth floor and include a wine and dessert reception.
Concert tickets are $30 for individuals, $10 for students. To purchase a ticket, visit lib.k-state.edu/events.
The remaining events in this season's series include an encore performance by Slawomir Dobrzanski, piano, and Ben Sayevich, violin, on April 28, and Jazz in June on June 9.
For more information, contact Darchelle Martin at martin05@k-state.edu or 785-532-7442.