December 22, 2016
Veterinary faculty member hosts international swine disease research symposium in Chicago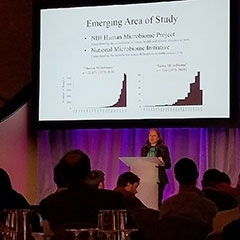 For the 10th year, a leading expert on swine disease in the College of Veterinary Medicine at Kansas State University has hosted an international symposium in Chicago. Bob Rowland, a virologist and professor of diagnostic medicine, was the executive director for the North American PRRS Symposium, Dec. 3-4, at the InterContinental Hotel.
PRRS stands for porcine reproductive and respiratory syndrome virus, which has cost the U.S. pork industry more than $10 billion since it first appeared in the late 1980s.
The meeting attracted top-notch speakers from universities, industry partners and veterinarians from around the globe. This year's symposium had 255 attendees from 23 different countries including China, Republic of Korea, Russia, Argentina, Canada, Mexico and several European countries.
While porcine reproductive and respiratory syndrome is the most costly viral disease to ever face the swine industry, the North American PRRS Symposium has further expanded to include emerging and foreign animal diseases, such as Seneca Valley virus, porcine epidemic diarrhea virus, porcine circovirus associated disease, African swine fever virus, classical swine fever virus and other high-consequence diseases of swine.
"This is a conference that continues to grow and expand. Furthermore, the number of attendees from other countries illustrate the global impact," Rowland said. "A lot of the credit goes to Kansas State University, especially the College of Veterinary Medicine. K-State employees supply much of the infrastructure support that drives the success of the conference. We look forward to even a bigger conference in 2017."
The symposium was planned in conjunction with the annual Conference of Research Workers in Animal Disease, which is regularly hosted in Chicago. Becky Eaves, project manager in the department of diagnostic medicine and pathobiology, was the proceedings editor and staff member for the symposium. She was joined by Francine Rowland from K-State.
One of the highlights of this year's conference was the recognition of the election of X.J. Meng, university distinguished professor of molecular virology at Virginia Tech, as a member of the National Academy of Sciences. Also included were 101 abstracts/research posters presented on the topics of disease control, vaccines, pathogenesis, diagnostics, epidemiology and host genetics. Travel fellowships were awarded to 25 graduate students and postdocs, including six from Kansas State University.
Major support for the meeting came from the College of Veterinary Medicine, National Pork Board, the Kansas State Veterinary Diagnostic Laboratory, Biosecurity Research Institute, Kansas State University Institute for Commercialization, USDA's National Institute of Food and Agriculture and several science and animal health companies.