December 19, 2016
Geographic information scientist Michael Goodchild to present seminar on Feb. 21, 2017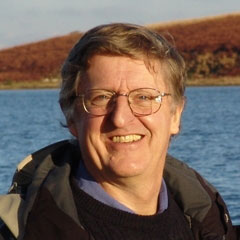 Michael Goodchild, professor emeritus of geography at the University of California, Santa Barbara, will present a seminar at 3:30 p.m. Feb. 21, 2017, in the McVay Family Town Hall in the Leadership Studies Building. The seminar is sponsored by the University Distinguished Professors and the Office of the Provost.
Goodchild is one of the world's foremost experts in geographic information science who also has research interests in spatial analysis and uncertainty in geographic data. He also is widely credited with coining the term "Volunteered Geographic Information."
Until his retirement in 2012, Goodchild was the Jack and Laura Dangermond professor of geography, and director of UCSB's Center for Spatial Studies. He was elected member of the National Academy of Sciences and foreign member of the Royal Society of Canada in 2002, member of the American Academy of Arts and Sciences in 2006 and foreign member of the Royal Society and corresponding fellow of the British Academy in 2010. In 2007, Goodchild received the Vautrin Lud Prize considered by many to be geography's equivalent of a Nobel Prize.
Goodchild served as chair of the National Research Council's Mapping Science Committee from 1997 to 1999, and Advisory Committee on Social, Behavioral, and Economic Sciences of the National Science Foundation from 2008 to 2010.
Please direct questions about Goodchild's visit to the event organizers, John Harrington at jharrin@k-state.edu or Shawn Hutchinson at shutch@k-state.edu.