December 8, 2016
Two K-State graduates to receive 2017 Distinguished Young Alumni Award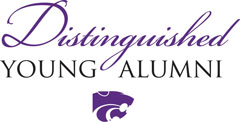 Two Kansas State University graduates — Dalton Henry, Washington, D.C., and Jorge Mendoza, Columbus, Ohio — are the recipients of the K-State Alumni Association Student Alumni Board's 2017 Distinguished Young Alumni Award.
The award recognizes two K-State graduates who are younger than 35 and are using the scholarship, leadership and service experience they acquired at K-State to excel in their professions and contribute to their communities. The K-State Alumni Association and Student Alumni Board will honor Henry and Mendoza when they return to campus Feb. 27 through March 1 to give keynote presentations and visit with student groups and university classes.
"In fulfillment of the Alumni Association's mission to serve alumni as their link for life to the university, we are pleased to support the Student Alumni Board in presenting this award to simultaneously honor some of our most accomplished young graduates while creating new ties among alumni, students and faculty," said Amy Button Renz, K-State Alumni Association president and CEO.
Henry, a native of Randolph, is the director of policy at the U.S. Wheat Associates.
While at K-State, Henry was a member of Alpha Gamma Rho fraternity, Blue Key Honor Society, College of Agriculture Ambassadors, Ag Communicators of Tomorrow and Ag Economics Club. Henry also served as K-State student body president for the 2009-2010 school year. He graduated from K-State in 2010 with a bachelor's degree in agricultural communications and journalism.
Mendoza, a native of Garden City, is the STEM Exploration program manager at Ohio State University. He graduated from K-State in 2010 with a bachelor's degree in biology.
While at K-State, Mendoza was a member of Developing Scholars Program, McNair Scholars Program, Research Experience for Undergraduates, Hispanic American Leadership Organization, Bridges to the Future and served as president of the Multicultural Honor Society.
"We are so excited to bring back two fantastic K-State alumni, Jorge and Dalton," said Taylor Fry, Student Alumni Board president. "They have both done outstanding things in their careers and have accomplished a great amount at such a young age. As a student, it is inspiring to hear from two individuals who once walked K-State's campus, impacted the university, and then continued to make a difference in their careers. We are thrilled to honor these amazing leaders."
For more on the Distinguished Young Alumni program, visit K-State.com/DYA or call the K-State Alumni Association at 800-600-ALUM (2586).