December 2, 2016
Umscheid named director of professional mentoring program in the College of Human Ecology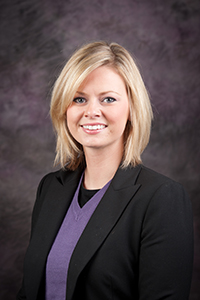 Megan Umscheid joined the College of Human Ecology in November as director of the professional mentoring program and an instructor in the college. She has experience in developing professional mentoring programs through her past work in pre-secondary and postsecondary education settings and community development positions.
In her role as executive director of the Wamego Area Chamber of Commerce from 2013 to 2016, Umscheid developed the Peer Chamber program in partnership with Wamego High School and more than 300 regional businesses. The program matches juniors and seniors with business mentors who coincide with the students' career aspirations to create a mutually beneficial experience for the mentor and mentee. Through the mentoring experience, students also benefit from professional soft skills training. Due to the success of these programs, she has presented about mentoring at numerous events.
"A positive professional mentoring experience can be transformational for students — guiding their professional development and career path," Umscheid said. "The College of Human Ecology's program allows students to learn from highly successful and experienced professionals who choose to volunteer their time with the objective of helping students succeed in their chosen career. I look forward to increasing participation in the mentoring program and further developing meaningful programming to enhance this opportunity for our students."
A lifelong resident of the Manhattan area, Umscheid earned a bachelor's degree in education from K-State. She went on to earn a master's degree from Baker University. From 2008 to 2010, Umscheid served as a public school educator and then at K-State as the special projects coordinator for the Office of the President from 2010 to 2013.