September 26, 2016
Kansas Forest Service fall 2016 newsletter
Submitted by Jennifer Williams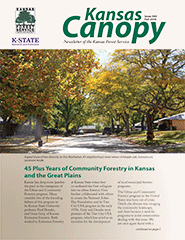 The fall issue of the Kansas Canopy is now available. The Kansas Forest Service's fall 2016 newsletter has information about Fall Forestry Field Day and other upcoming events, and the fall conservation tree sales season.
Also in this issue:
Community forestry and the Great Plains.
Conservation trees for fall planting.
Fall Forestry Field Day information.
Welcome new Kansas Forest Service employees!
Fire program personnel: "A Day in the Life."
Forester highlight: Kim Bomberger.
Trees for water and wind damage control.
Adventures in mapping the Kansas canopy.