September 9, 2016
Movement Challenge week two results are in
Submitted by Human Capital Services - Benefits
The K-State Family is doing a great job moving and being active after week two of the Movement Challenge. This week, K-Staters held fairly steady with the average daily activity per person hovering at 8,985 steps. Keep up the good work!
It's never too late to work on adding more activity to your day or engaging a colleague to be active with you. Each week, there is an additional weekly challenge. Week three's challenge is to be active by playing a game. Grab your family and play a game of horseshoes, play some basketball or have a bike race. Document your fun by posting to Twitter or Instagram and use #purpleisprogress to be entered to win a wearable activity tracker. The Movement Challenge team has awarded two activity trackers already. Week one and two winners were David Woods and Adalee Brenner.
The Movement Challenge consists of two ways for departments to compete. At the end of the challenge, the Movement Challenge team will name one department the winner of highest activity and one department the winner of highest participation. For those of you who are independently competitive, there also is an individual leaderboard.
The week two results are in. These calculations are based on data entered for week two of the Movement Challenge, Sept. 4-10. The final standings will be for data entered for the entire competition, Aug. 21 to Oct. 1.
The department with the highest average daily activity is food, nutrition, dietetics and health.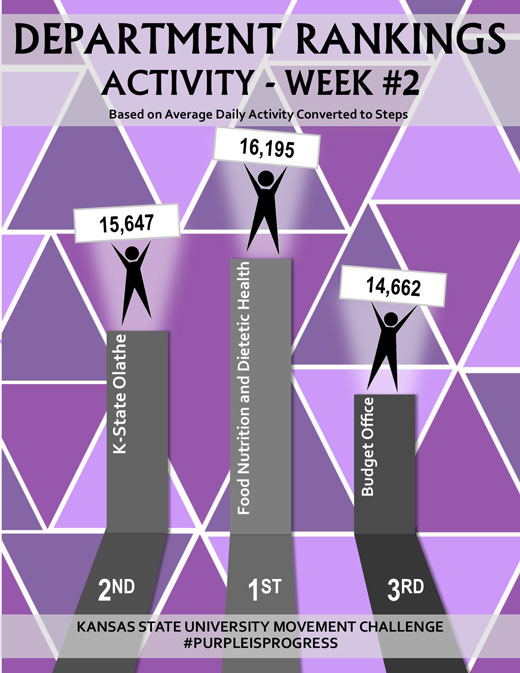 The department with the highest weekly participation is the Budget Office.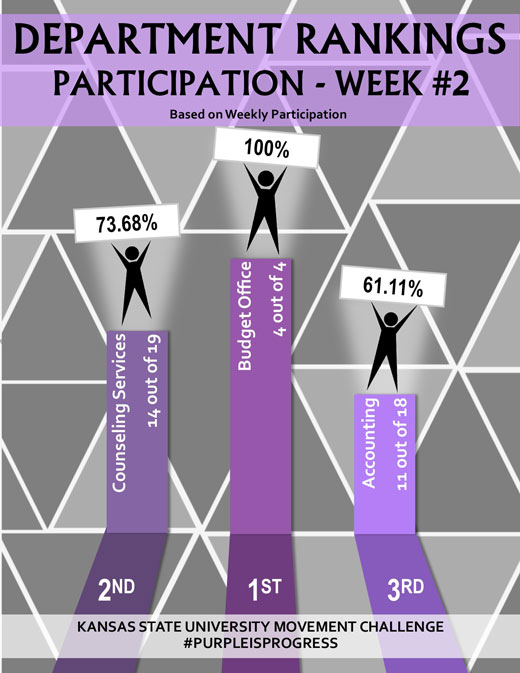 The individual leader at this time is Wendy Schlesener from facilities car pool.