September 6, 2016
Poet Ross Gay to read from his work Thursday, Sept. 8, at 5:30 p.m.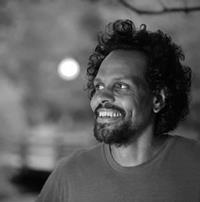 On Thursday, Sept. 8, poet Ross Gay will read from his work at 5:30 p.m. in the K-State Student Union's Cottonwood Room.
Gay is the author of three books: "Against Which," "Bringing the Shovel Down" and, most recently, "Catalog of Unabashed Gratitude," winner of the 2015 National Book Critics Circle Award and the 2016 Kingsley Tufts Poetry Award. "Catalog" also was a finalist for the 2015 National Book Award in Poetry, the Ohioana Book Award, the Balcones Poetry Prize, and it was nominated for an NAACP Image Award.
Gay has received fellowships from Cave Canem, the Bread Loaf Writer's Conference and the Guggenheim Foundation.
Born in Youngstown, Ohio, Gay earned a Bachelor of Arts from Lafayette College, a Master of Fine Arts in poetry from Sarah Lawrence College and a doctorate in English from Temple University. He teaches at Indiana University.
"Whether he is making something miraculous out of the mundane or finding something to praise in tragedy, Ross Gay's poems contain the most enduring joy I know," said Traci Brimhall, K-State assistant professor of English and creative writing.
More information about Gay's work is available from his website.
Gay's reading is sponsored by the English department. The event is free and open to the public. A book signing will follow the reading.