August 31, 2016
Physics graduate research assistant Utuq Ablikim awarded fellowship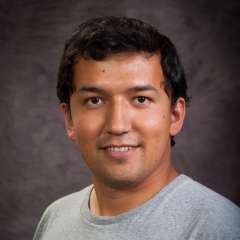 Utuq Ablikim, graduate research assistant in the James R. Macdonald Laboratory in the physics department, has been awarded an Advanced Light Source Doctoral Fellowship for the 2016-2017 academic year.
The fellowship provides an $18,000 stipend along with the opportunity to conduct research at the frontier of synchrotron radiation and help advance state-of-the-art techniques and applications.
Ablikim will spend the 2016-2017 year in residence at the Lawrence Berkeley National Lab in California. He will work under the direction of his research advisor, Daniel Rolles, assistant professor of physics at K-State, in collaboration with Advanced Light Source staff scientists.
Ablikim received a bachelor's degree in physics from the Harbin Institute of Technology, China, in 2009, and a master's degree in physics from K-State in 2015.