August 25, 2016
New mobile app proves essential to K-State community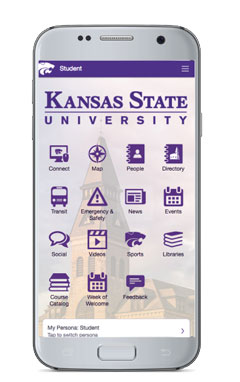 With the new academic year underway, the innovative K-State Mobile app is connecting faculty, staff and students across campus with the resources they need, right at their fingertips.
The interactive map feature is especially useful to new students, as this handy tool makes campus easily maneuverable. Students can search for a specific building and see exactly where on campus it is located, as well as view additional building information and walking directions. Additionally, the app includes a parking garage feature, allowing students to determine parking spot availability.
In addition to the map, the new mobile app also features:
Connect: Direct access to class schedules, email, calendars and more.
K-State Online: Access classes and course information.
Libraries: Virtually search the stacks and access research tools.
K-State Today: Keep up to date on the day's activities, news stories and more.
Emergency and safety: Updated with most recent campus advisories and warnings, as well as important campus phone numbers.
Sports: View athletic schedules and current news about K-State teams.
Social: Browse K-State's Facebook and Twitter accounts.
People and department directories: Look up and call phone numbers, see addresses and automatically connect to the map to navigate.
The new K-State Mobile app is available on both the Apple App Store and Google Play. Download K-State Mobile today!