August 9, 2016
Kansas State Polytechnic professor Tim Bower's robotics education article published in prestigious engineering magazine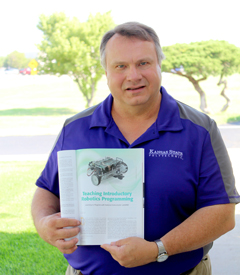 Tim Bower, a computer systems technology professor at Kansas State University's Polytechnic campus, is being recognized for his teaching methods in robotics programming by the Institute of Electrical and Electronics Engineers, or IEEE.
Bower composed an article in April 2015 about his strategies for educating beginning students on the complexities of robotics and it was chosen by IEEE Robotics and Automation magazine for publication in the June 2016 edition. The story, titled "Teaching Introductory Robotics Programming," was one of only nine editorials selected out of almost 40 submissions from 15 different countries.
The article is inspired by the robotics programming course Bower created in spring 2014. With a variety of majors enrolled, including unmanned aircraft systems, mechanical engineering technology and electronic and computer engineering technology, he knew many of the students would only have basic knowledge of the technology and may have challenges comprehending the algorithms involved. Bower streamlined the course by highlighting the areas of robotics that are more understandable for beginners and in one case, developed his own algorithm.
"In robotics programming, multiple things are happening at the same time — reading sensors, controlling wheels and motors, steering — and it can be a difficult technology to master," said Bower, who has been with Kansas State Polytechnic for 12 years. "As a professor, the last thing I want is to frustrate and discourage students by forcing them to learn something that isn't on their educational level. It's important to create a path where students have an appreciation for the complexities and also leave my class feeling successful."
Bower's article, which gives examples of the simplified autonomous algorithms he uses in the course including the wall-following algorithm he invented, was chosen for publication because of the quality of the written document as well as its purpose of helping beginners feel comfortable with robotic programming. This is Bower's first article that a publication of IEEE has picked up, though he has had a few previous articles appear in other educational journals.
"I'm very honored to see my article selected for such a prestigious publication — it's a validating feeling when my many hours of research and teaching are recognized," Bower said. "Most importantly, however, I hope it gives teachers and professors ideas and strategies they can use to help their students feel more confident and accomplished."
Before arriving on the Kansas State Polytechnic campus in 2004, Bower was a systems administrator in the computer science department on K-State's Manhattan campus. He also worked for 10 years at Sprint in Kansas City as an electrical engineer. Bower earned a bachelor's degree in electrical engineering from K-State and a master's in electrical engineering from the University of Kansas.
In 2015, Bower won Kansas State Polytechnic's Excellence in Innovation Award during the campus Faculty and Professional Staff Awards Showcase.