July 25, 2016
Retired Lt. Col. Andrew Turner joins undergraduate studies office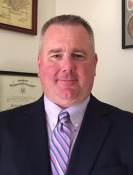 On July 18, the Office of Pre-law Advising, Office of Nationally Competitive Scholarships and the University Honors Program welcomed Andrew Turner as the new senior administrative assistant.
A resident of Manhattan, Turner served 22 years in the U.S. Army, retiring at the rank of lieutenant colonel. His experience over the course of his military service included multiple command and staff assignments in the U.S. and abroad. Turner earned his bachelor's degree in political science from the University of Nebraska, Lincoln and is currently pursuing a master's degree in business administration. The Office of the Vice Provost for Undergraduate Studies welcomes Turner to K-State.
By virtue of his position, Turner will work with a wide variety of K-State's most high-achieving undergraduate students. These include 291 incoming University Honors Program students, whose number swell the current ranks of the program to 1,013 students. University Honors Program students come from every college; for example, the program has nearly 100 students in agriculture and a roughly equal number in business. The two largest academic groupings are pre-health students and the nearly one-third of current University Honors Program students who are majors in the College of Engineering. One of our goals is to increase the number of University Honors Program-eligible students who apply to and attend Kansas State University. This will help increase the number of students from every college.
Turner also will work with our 325 pre-law students as well as many of the nationally competitive scholarship candidates. Of course, many of our students are affiliated with or interact with more than one of the three programs, which reflects part of the rationale for the alignment and co-location of pre-law, nationally competitive scholarship advising and the University Honors Program.
Be reminded that Steve Dandaneau, vice provost for undergraduate studies and interim University Honors Program director, as well as Alexandra Boyd, business manager, Office of the Vice Provost for Undergraduate Studies, are in 215 Fairchild Hall with Pre-Law, University Honors Program and Nationally Competitive Scholarships.