July 6, 2016
Landscape architecture and regional & community planning professor presents landscape visualization project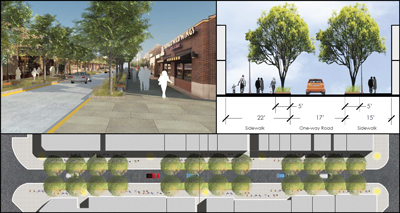 Brent Chamberlain, assistant professor of landscape architecture and regional & community planning, presented "Using Landscape Visualization to Inform Streetscape Design" at the 2016 Digital Landscape Architecture conference in Istanbul, Turkey, earlier this spring. The conference is the leading international venue for presenting state-of-the-art technology-based research and pedagogy in landscape architecture.
Chamberlain's presentation explored how different elements of streetscape design or infrastructure influence people's preferences for a space. The work began as Rebecca Liu's master's thesis and grew into a publishable project. Chamberlain worked with the student and associate professor Jessica Canfield to develop possible visions for the streetscape along Moro Street. The visions were presented as 40 highly realistic images developed using advanced computer visualization techniques. Images were then used in a preference survey of 30 patrons and 30 Aggieville Business Association members to gauge how parking strategies and the presence of vegetation, bike lanes and seating affected perceived attractiveness and safety. Results were statistically analyzed and resulted in significant findings relevant for landscape and urban design researchers. The presence of vegetation, such as trees, significantly increased perceived attractiveness.
Chamberlain's travel was supported by a Faculty Development Award from the Office of Research and Sponsored Programs in fall 2015. Attending the conference allowed Chamberlain to showcase his work in 3-D and 4-D visualization with some of the most technologically advanced scholars in landscape architecture and planning. After integrating conference feedback, he will submit the article to a peer-reviewed journal later this year. He also is actively engaged in submitting funding proposals with collaborators from other disciplines; two government agencies have expressed interest in immersive visualization technology.
"The technology can improve decision-making and policy development by providing a rich immersive experience to designers, planners and the public in order to further social engagement, discussion and visioning," Chamberlain said.