July 5, 2016
Communication studies faculty member presents at National Communication Association summer conference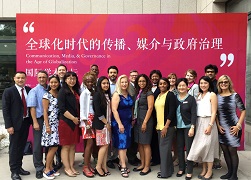 Communication studies faculty member Soumia Bardhan participated in the 2016 National Communication Association Summer Conference, June 16-19, at the Communication University of China in Beijing. The theme of this year's conference was "Communication, Media, and Governance in the Age of Globalization."
Bardhan chaired a panel on cybersecurity and social governance, as well as presented at the workshop "Emerging Communication Pedagogies in the Age of Globalization," where speakers shared perspectives for creating global experiences in communication courses or programs.
Bardhan's presentation focused on deepening learning in short-term travel seminars. Specifically, she addressed the need to design short-term study abroad experiences that combine high academic standards, personal growth, and deepened engagement with and immersion in the host culture.
While many short-term travel seminars can be seen as "academic tourism," Bardhan discussed ways to trade superficial experiences for experiences with high expectations and challenging standards.