June 13, 2016
K-State Global Campus 50th anniversary apparel supports distance student scholarships through June 30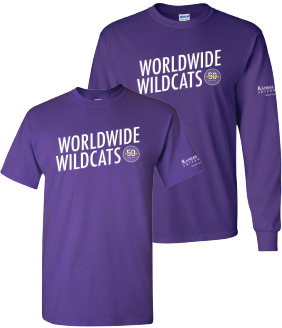 Get decked out in purple for a good cause. Help celebrate the 50th anniversary of Kansas State University Global Campus by purchasing anniversary apparel through June 30. A portion of the proceeds applies toward distance student scholarships.
"Scholarship support for part-time, place-bound distance students is a continuing priority," said Sue Maes, dean of K-State Global Campus. "We invite you to help us celebrate a milestone of 50 years of distance learning at K-State, while giving back to students who connect to campus from around the world."
Choose from a variety of apparel styles to show your continued support of K-State's worldwide wildcats. See apparel information and place your order online.