June 9, 2016
K-State Summer Choral Institute to perform at Symphony in the Flint Hills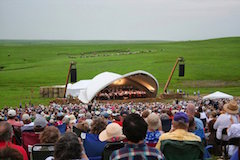 The Kansas State University Summer Choral Institute will join the Kansas City Symphony in celebrating the 10th annual Symphony in the Flint Hills on Saturday, June 11, in Chase County, Kansas. The chorus will perform a solo main stage concert at 12:30 p.m. and will appear with the Kansas City Symphony, directed by associate conductor Aram Demirjian at 6:30 p.m.
"We are honored and excited to join the Symphony in the Flint Hills this year. It will be a great educational experience; a highlight in the young lives of our musicians," said Bryan Pinkall, the institute's administrative director and assistant professor of music.
The K-State Summer Choral Institute, now in its 38th year, is one of the nation's most unique summer programs for high school sophomores and juniors.
Forty of the nation's top high school choral music students are selected each year to attend the institute. Students participate in an intensive week of rehearsals, masterclasses, private coachings, musical performances, lectures, piano classes, as well as team- and character-building exercises. The leadership staff of the institute are among the top performers and educators in their respective fields. Students from the institute continually find that it makes a significant and lasting impact on their lives as musicians and people.
Sponsored by the Master Teacher Institute for the Arts, students accepted into the institute receive a full scholarship which covers all expenses — tuition, music, room, board, admissions, etc. — for the six days and five nights on K-State's Manhattan campus.