May 27, 2016
Dustin Headley receives 2016 Treanor Architects Faculty Award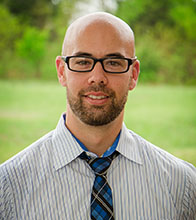 Dustin Headley, assistant professor in the interior architecture & product design department at K-State, was awarded the 2016 Treanor Architects Faculty Award. This award is to recognize and retain the highest quality faculty in architecture, planning and design.
Headley joined the department in 2013 as an assistant professor. He has taught design studios, digital applications and fabrications as well as advised and aided in the prototyping of several thesis projects. Headley's students have collaborated with both community and industry partners to design and build full-scale prototypes with immersive learning and technology-based research outcomes.
Headley received his bachelor's degree in architecture in 2007 and master's degree in architecture in 2009 from Ball State University in Muncie, Indiana, where he became a leader within the Institute for Digital Fabrication. Shortly after graduation, Headley began teaching at Ball State until coming to K-State.
Headley's research focuses on digital fabrication and design technology as a medium for connecting and augmenting other industries as well as a means to improve the efficacy of teaching methods.
"Among Dustin's many exciting collaborations have been his efforts to lead students in developing street and urban furnishings in collaboration with Norris Design and Brookfield Development for the MidTown Residential Community on a former brownfield site in Denver, Colorado," said Tim de Noble, dean of the College of Architecture, Planning & Design. "The experiences and opportunities provided for the students not only prepared them for the rigors of practice, but resulted in exceptional design work, implemented and installed in service to the community."