August 5, 2016
Putting a face to a name: Derek Smith
Submitted by Division of Communications and Marketing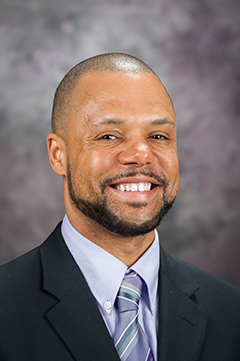 Meet Derek Smith, Kansas State University's director of compensation and organizational efficiency for Human Capital Services. He's in charge of linking employee pay and Total Rewards to K-State's overall goals and strategies.
Smith has a bachelor's degree from Hampton University, a Master of Science from the University of Wisconsin and a master's degree in business administration from the University of Phoenix. He is a doctoral student in workforce development and organizational leadership at the University of Nevada, Las Vegas.
Smith is a certified Six Sigma yellow belt and has a Korn Ferry Leadership Architect certification. He is a member of the Society for Human Resource Management, College and University Professional Association of Human Resources and its Kansas chapter.
Originally from Milwaukee, Wisconsin, he is the father of twins.
What are some of the big changes you hope to or have implemented since you started in this position and how will this affect K-Staters?
The compensation philosophy is a collective of responses from Kansas State University stakeholders. The philosophy is the compass that will guide us through the Rediscover Total Rewards initiative that helps us compare our total rewards to local, regional and national markets. This means using more facts and data and less guessing and opinions about how to fund salaries and benefits at Kansas State University in the future.
What are your goals for improving employment at K-State?
Make things more fair and consistent. We are increasing the use of data to help us make more informed decisions. We are focusing on having more transparency with pay ranges. One example is looking at the cost of living associated with living in close proximity to Kansas State University campuses in Riley, Johnson and Saline counties.
How will what you are doing help K-State employees?
It will help employees achieve continuous improvement regarding how we organize, recognize, develop and reward new and existing talent. This should assist the employees with work-life balance, a happier work place and increased productivity.
What keeps you up at night?
I am concerned that we sometimes resist change because we are scared of the future. I am uneasy about tendencies to not look for information about how we can improve and instead to look for affirmation for our biases to maintain status quo.
What is your favorite part about K-State?
Our people and K-State's rich history stand out to me. Our people who feed our students, take care of our children, clean and fix our buildings, organize our files, answer our calls, greet us with a smile, lead our teams, research the world around us, discover new solutions for us, and teach our students are outstanding examples of our motto, "family." The historical things like being the first land-grant college in Kansas, our connection to Martin Luther King Jr., contributions to Lasik surgery, the Landon Lecture Series, student achievement, Wildcat Athletics sportsmanship and the Biosecurity Research Institute are things I like to tell others about.