May 17, 2016
K-State Athletics and faculty build Best Rangers, presented with Commander's Award for Public Service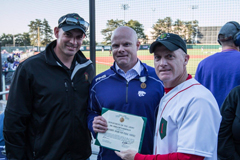 Fort Riley and K-State are a good pair — both entities work hard, play hard and aim to be the best they can be. When K-State can help out Fort Riley, we do and vice versa. Since January, a team at K-State has been working with five Best Ranger competitors from Fort Riley. At the K-State baseball game May 14, Maj. Gen. Wayne Grigsby, Commanding General of the U.S. Army's 1st Infantry Division, recognized the behind-the-scenes support that the Best Ranger competitors received from K-State. Grigsby awarded the specialized K-State team for exceptional service and all aspects of physical and mental conditioning.
The K-State team that worked with the Best Ranger competitors consisted of Phill Vardiman, program director for athletic training and associate professor in the College of Human Ecology; Matt Thomason, director of sports medicine; Mindy Hoffman, assistant athletic trainer; Simeon Seiler, assistant athletic trainer; Corey Meredith, assistant strength coach; Scott Trausch, nutritionist; and Ian Connole, sports psychologist, all from K-State Athletics. Joel Druven assisted Connole. Hoffman worked with Gilad Jacobs and Dan Carina of Normatec Company, to arrange the loan of three Pulse Pro Full Body units for the team to use post workout.
The Best Ranger Competition is an annual event that pits the best soldiers in the Army against one another in a battle of physical endurance, mental acuity and functional skills. This year, 51 teams gathered at Fort Benning, Georgia, to challenge each other in ever-rotating categories, which can include surprise assignments, such as marksmanship, obstacle courses, land navigation, foot march with a 60-pound rucksack, weapons assembly/disassembly, rope climbing and rappelling, helocast and swim and buddy run.
At Fort Riley, a preliminary competition determined who would represent the base, with Capt. Mark Gaudet, 1st Battalion, 16th Infantry Regiment; and 1st Lt. Tim Nelson, 2nd Battalion, 34th Armor Regiment winning. Second Lt. Deaven Miller, 1st Battalion, 16th Infantry Regiment; and Staff Sgt. Gustavo Medrano, 1st Combined Arms Battalion, 63rd Armor Regiment, 2nd Armored Brigade Combat Team, 1st Infantry Division, also trained and competed at Fort Benning with 1st Lt. Todd Sullivan, 2nd Battalion, 70th Armor Regiment, 2nd Armored Brigade Combat Team, as the alternate.
In January, the K-State team coordinated everything from the soldiers' training at K-State facilities to their dietary needs, mental training, workout recovery, needed equipment and strength training. With all of these resources behind them, the five Rangers competed at the 2016 Best Ranger Competition April 15-17 and the top pair, Gaudet and Nelson, came in fifth overall while winning both the buddy run and the foot march. Fifth place is the best finish for Fort Riley in the competition's history and Gaudet and Nelson hope to compete again next year and finish first.
The K-State team put in long hours and intense dedication preparing Gaudet, Nelson, Miller, Medrano and Sullivan for competition and were honored by the recognition at the May 14 baseball game. Each member was presented with the Commander's Award for Public Service.
"It was an amazing experience to meet Maj. Gen. Grigsby and Brig. Gen. Frank and to have this opportunity to work with the soldiers at Fort Riley. We are looking forward to continuing our work with them and helping anyway we can," Vardiman said.