May 13, 2016
Family support fuels success for first-generation distance graduate at K-State's spring commencement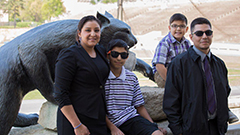 Elisha Reyes, Dodge City, will walk across the commencement stage Saturday, May 14, in Kansas State University's Bramlage Coliseum with a large group of family members cheering her on with purple pride. A first-generation and honor student, she is completing a Bachelor of Science in business administration through Kansas State University Global Campus.
"Being the first generation in my family to go to college means a lot to me," Reyes said. "My mom has been my backbone and always encouraged me to continue my education. Not only have I attained my goals and dreams, I've made my family proud."
Before attending Kansas State University, Reyes obtained her associate degree at Dodge City Community College. A Kansas State University advisor based at the community college helped her transfer into the university's online degree completion program and streamlined the transition to online learning. Through the process, the family support that Reyes felt grew stronger.
"I see K-State as family — from Provost April Mason, to Dean Sue Maes, to the K-State advisor I met with, and the wonderful student services staff," Reyes said. "They were always available to answer my questions and provide encouragement and guidance to direct me on the right path. With the right people helping you, the right mentality and enough persistence, you can accomplish anything."
Reyes worked for 11 years at a packing plant and started a family, but she knew there was more. She was determined to continue her education while balancing her career and coursework with what mattered most — her family.
"I'm proud to be a role model for my two children and to my extended family," Reyes said. "The hardest part is taking the first step and deciding that you want to better yourself. Obtaining my associate degree and furthering my education with K-State has opened doors for me."
One opportunity was Reyes' current position as executive assistant for the vice president of aerospace programs at Dodge City Community College. She hopes her bachelor's degree will be another milestone toward a career in higher education or possibly owning a small business.
"There's nothing greater than feeling a sense of pride when you're getting your education and you're bettering your life," she said. "I have many relatives traveling to Manhattan this weekend, and they're looking forward to watching me graduate. This is priceless."
More than 240 K-State distance students are graduating in spring 2016. View a complete graduate listing on the K-State Global Campus virtual commencement website, or send distance graduates a congratulatory message through the virtual reception board.