May 19, 2016
Reminder: Landon Lecture today features president of Costa Rica
Submitted by Division of Communications and Marketing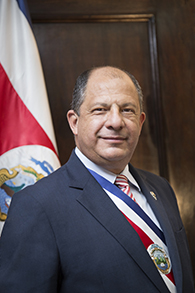 Costa Rica President Luis Guillermo Solís will give a Landon Lecture at 5:30 p.m. Thursday, May 19, in Forum Hall in Kansas State University's Student Union. The lecture is free and the public is invited.
Before being elected president of Costa Rica in 2014, Solís' political experience included serving as an official of Costa Rica's Ministry of Foreign Affairs and as ambassador for Central American affairs and director of foreign policy.
"President Solís' experience in education and politics will provide a stimulating finish to this semester's distinguished Landon Lecture Series, which has a history of bringing many international leaders to the university," said Jackie Hartman, the university's chief of staff, director of community relations and chair of the Landon Lecture Series.
Solís will be the second Costa Rican president to give a Landon Lecture, joining Oscar Arias Sanchez who spoke in 1987.