May 6, 2016
Kansas Forest Service accountant receives Award of Excellence
Submitted by Jennifer G. Williams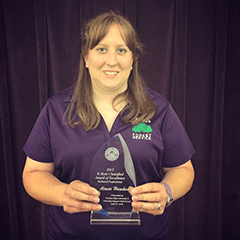 The K-State University Support Staff Award of Excellence recognizes exemplary performance and contributions of university support staff members who consistently excel in their positions and demonstrate integrity and a strong commitment to the mission and values of K-State.
K-State recognized three university support staff professionals for their job performance with the university's 2016 University Support Staff Award of Excellence at the University Support Staff Recognition Ceremony April 27. Aimee Hawkes, accountant 2 with the Kansas Forest Service, received the Award of Excellence in the technical and professional category.
Hawkes was nominated by Kylie Rethman, administrative specialist in the Kansas Forest Service. The nomination read:
"Hawkes is the pinnacle of managing change in the office, and giving every individual employee/account/customer/situation the attention it deserves, keeping a close eye to detail all the while ensuring the satisfaction of those involved. She has never missed an employee's birthday, and never forgets to get a birthday card and have it signed by everyone at the office. Hawkes maintains an open and friendly attitude, is always willing to listen to problems and questions and try her hardest to give answers and direction. Her attention to detail and thoughtfulness with regard to others inspires everyone to be more attentive to each other in the office. Hawkes never has a bad word to say, and offers everyone the same respect."
Please join the Kansas Forest Service in congratulating Hawkes on her recognition.