May 3, 2016
Fulbright scholar to visit campus May 3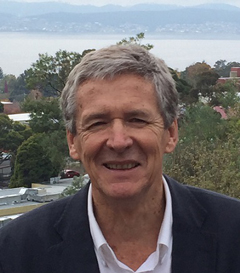 Ted Lefroy, professor, Fulbright scholar and director of the Centre for Environment at the University of Tasmania, will present the seminar "The Myths of Nature and the Rise of Ecology" at 2 p.m. Tuesday, May 3, in 137 Waters Hall. The seminar also will be streamed live for those that cannot attend in person.
Currently pursuing his Fulbright scholarship at the University of Washington, Lefroy is conducting research for an illustrated book that explores the gap between perceptions of nature in popular culture and concepts accepted within the scientific disciplines of ecology and conservation biology. Lefroy's seminar will delve into the key areas of inquiry in his research, and he also will meet with Kansas State University faculty with similar academic interests.
Lefroy's visit is hosted by the Office of the President and the Feed the Future Sustainable Intensification Innovation Lab as part of K-State's Oz to Oz program, which aims to enrich the experience of faculty and professional-level Fulbright professionals from Australia while they are in the U.S.
Individuals wishing to meet with Lefroy during his visit to K-State should contact Molly McKneight at mmckneight@k-state.edu. More information about Lefroy and his seminar is available online.