April 29, 2016
Oz to Oz: Australian scholar to visit campus May 2
Submitted by College of Arts & Sciences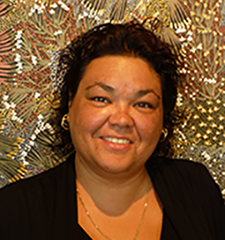 Michelle Deshong, research scholar in the School of Indigenous Studies at James Cook University in Townsville, Australia, will present a seminar on her research at 4 p.m. Monday, May 2, in 013 Leasure Hall. A social and refreshments prior to the seminar will be available at 3:30 p.m.
"Ms. Deshong has extensive experience in areas of leadership, governance and politics, and we are honored to welcome her to campus," said Beth Montelone, associate dean of research for the College of Arts & Sciences. "With her strong background in gender equality and her work to ensure that the voices of indigenous women are represented at all levels in Australian politics, she has much to offer and we are very much looking forward to her visit."
Deshong's study has focused on the participation of indigenous women in the formal political landscape of Australia, which has been fraught with many political and institutional barriers and challenges. Her doctoral research attempts to identify key enablers to increase participation in public and political life. Deshong's seminar will provide insight into the findings of her research, including black politics, public life and party politics. She also will share some preliminary insights from her Fulbright exchange with the Native Nations Institute at the University of Arizona, focusing on governance and First Nations building.
Deshong has spent time in the U.S. this spring as a Fulbright professional scholar at the University of Arizona. Her visit is hosted by the Office of the President and the College of Arts & Sciences as part of the Oz to Oz program. In 2015, Deshong was selected as the National Aboriginal Scholar of the Year.
Individuals wishing to visit with Deshong during her visit to K-State should contact Montelone at bethmont@k-state.edu. Read more information about Deshong and her presentation online.