March 18, 2016
Community planner to present '4-D Planning in the Century of Complexity'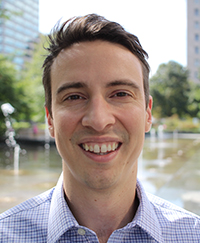 The College of Architecture, Planning & Design will host Matt Wetli, American Institute of Certified Planners and senior associate at Development Strategies, as part of its Distinguished Lecture Series. Wetli will present "4-D Planning in the Century of Complexity" at 4 p.m. Monday, March 21, in the K-State Student Union's Forum Hall.
Wetli holds a master's degree in city and regional planning from Ohio State University. He has a penchant in identifying, visualizing and helping communities act on opportunities to create great places, with an emphasis on urban redevelopment and new town centers. His focus has been in understanding the economic conditions, i.e. market and financial, and urban design qualities — such as public space and walkability — that result in vibrant, mixed-use communities.
In 2000, Stephen Hawking stated that we are entering the "century of complexity," acknowledging the opportunities of continued human achievement and the increasing threats to stability that are brought about by rapid change. These problems are likely to be addressed by people living and working in cities — in places that foster interaction among a variety of thinkers and problem solvers — and will heighten the importance of planning as the profession that can establish the necessary systems, networks and places needed to foster human advancement.
Increasingly, Wetli has been involved in devising economic and community development strategies that complement real estate-based revitalization efforts. Wetli has managed numerous projects, taking an approach that first emphasizes marketable ideas and concepts and then tests and supports those ideas with market and financial analysis. He is eager to understand ways in which the changing demographic landscape is shaping future opportunities, and how investments in people, places and buildings can enable communities to evolve and achieve their potential as economically thriving and livable places.
The lecture is free and open to the public, and is sponsored in part by K-State Student Governing Association's Fine Arts Fee.