March 22, 2016
Science on Tap: Developing insect traps for pest management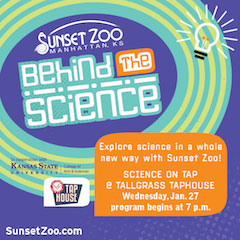 Held in a relaxed setting on the fourth Wednesday of the month — January through April — Science on Tap features a brief, informal presentation by a K-State scientist followed by lively conversation. The free, interactive program begins 7 p.m. Wednesday, March 23, at Tallgrass Tap House, 320 Poyntz Ave. Be sure to let the Tap House staff know you are there for Science on Tap.
The goal is to build our community's enthusiasm for science in a fun and unique way. Science on Tap is organized through a partnership with the College of Arts & Sciences, Sunset Zoo and Tallgrass Tap House.
This month's featured topic is the development of insect traps for pest management. Ryan Schmid is a graduate student working toward a doctorate in entomology at K-State. He received his bachelor's degree in biology and microbiology and a master's in biology from South Dakota State University. Schmid is the winner of the Graduate School's Three Minute Thesis Competition.
Schmid's passion is insects! His interests were sparked as an undergraduate in Jon Lundgren's entomology lab. Since then he has focused his work on insect communities, behavior, and their interactions with their environment. Schmid's research at K-State relies heavily on insect behavior and environmental interactions. His knowledge certainly has real world applications, particularly for the agricultural industry; applying his findings to improve monitoring for the Hessian fly, a significant pest of wheat.
The next Science on Tap will take place Wednesday, April 27.
Note that each Science on Tap will feature different topics so community members will learn something new each time they attend.