March 11, 2016
Veterinary Health Center to host annual Dog-N-Jog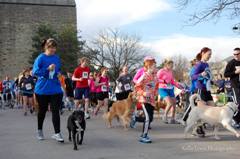 The Veterinary Health Center and the College of Veterinary Medicine's class of 2017 will host the 21st annual Dog-N-Jog at 9 a.m. Saturday, April 9.
Proceeds from the 10K/5K/1.5K road race benefit KSDS Inc. in Washington. Register by March 16 to guarantee a T-shirt and save $5. Visit our website for more information or register online. This event is open to the public and will feature a silent auction, vendor booths and prizes for finishers and dogs.
Dogs are not required for entry. Bring your family and friends — there will be something for everyone!