March 2, 2016
Talk by comics author and historian Trina Robbins on Friday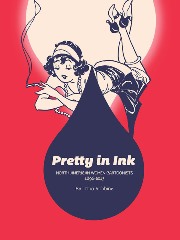 On Friday, March 4, comics author and historian Trina Robbins will offer a public talk on women cartoonists at 4 p.m. in the K-State Alumni Center.
Robbins is an American comics artist and writer and has been writing for comics and books for more than 40 years. She was an early and influential participant in the underground comix movement and one of the few female artists in that movement. In 1970, she edited "It Ain't Me, Babe," the first all-woman comic book, and, in 1972, she was one of the founders of "Wimmen's Comix," which is, to this day, the longest running all-women comic book anthology in history.
Besides numerous articles in art periodicals, Robbins also has written three histories of women in comics: "Women and the Comics," which she co-wrote with cat yronwode; "A Century of Women Cartoonists"; and "Pretty in Ink: American Women Cartoonists 1896–2013."
Philip Nel, university distinguished professor of English and director of the program in children's literature, values the range of experiences that Robbins brings to comics and to American popular culture.
"This is your chance to hear a legend. In the world of comics, Trina Robbins has done it all: she is a pioneer in underground comix, is the first woman to draw Wonder Woman, and has written histories of women in comics. And that's just a thumbnail sketch of her life in comics. Her earlier career included modeling, as well as making clothes for '60s rock stars David Crosby, Donovan and Mama Cass. She's also the Trina in the first verse of Joni Mitchell's classic 'Ladies of the Canyon,'" Nel said.
Robbins's talk is sponsored by the department of English and the department of Women's Studies. Visit the Women in Comics website for more information about Robbins's work.