January 20, 2016
Atma Trio to perform in 10th annual Hale Library Concert Series
Submitted by Sarah McGreer Hoyt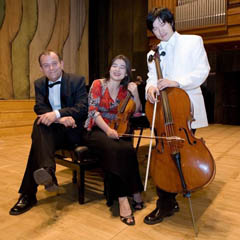 The Friends of the K-State Libraries continue their celebration of a decade of the Hale Library Concert Series with the Atma Trio on Jan. 29, 2016.
A few tickets are still available. To purchase tickets, visit www.lib.k-state.edu/friends.
The chamber group comprises Slawomir Dobrzanski, associate professor at K-State, piano; Blanka Bednarz, associate professor at Dickinson College, viola and violin; and Cheung Chau, assistant professor at Utah Valley University, cello.
Dobrzanski, a favorite of concert series regulars, has been featured in several seasons. As part of the Atma Trio, he and his fellow musicians have performed in the United States and Poland, as well as Germany, Lithuania, Sweden, Italy and China.
Critics refer to Atma Trio as "excellent musicians who truly know the art of performing chamber music."
All Hale Library Concert Series performances begin at 7:30 p.m. on Hale Library's fifth floor and include wine, dessert and chocolate.
The remaining concerts in the series include a performance by Ascendo3 on April 22 and Jazz in June on June 10.
For more information, contact Darchelle Martin at martin05@ksu.edu.