November 5, 2015
Cassone joins K-State Olathe as engineering programs coordinator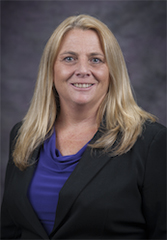 Deandra "Dee Dee" Cassone has been hired as an associate professor in the industrial and manufacturing systems engineering program at Kansas State University Olathe.

Cassone specializes in decision science, which develops innovative solutions for management to use when making data-driven decisions about complex problems. The field provides structure for systematic thinking based on logical principles, decision-making methods, data analytics and modeling to provide guidance for decision-making in multi-faceted situations.

Cassone has more than 25 years experience in consulting, technical and management roles in several Fortune 100 companies. She also served as a graduate adjunct professor in systems engineering at Missouri University of Science and Technology. She has published two books, four e-books as well as a number of articles and refereed papers. Her work in building structured decision-making models has resulted in 12 business process patents.

"Dr. Cassone's presence at K-State Olathe creates a great opportunity to engage partners in Greater Kansas City to advance education, collaborative research and outreach efforts," said Ralph Richardson, interim dean and CEO of K-State Olathe. "Interactions with K-State's College of Engineering, local industries and the surrounding school systems open doors that have not been present before."

Cassone is overseeing the campus' industrial and manufacturing systems engineering programs. Students can now take courses toward earning master's degrees in industrial engineering and operations research at K-State Olathe. She also is working to tailor program offerings in the Greater Kansas City area. The target audience is around 76,000 engineers, mathematicians, statisticians, business and financial analysts, and scientists, with the goal of providing program offerings to enhance career skills and decision-making.

"The focus of the Olathe campus is on the development and delivery of industry-driven academic programs and industry collaboration," Cassone said. "This provides an environment for innovation and an opportunity to provide value to the Kansas City community and K-State. I believe that the analytical tools and structured decision-making methods taught in industrial engineering provide real value in developing solutions to problems that businesses face today."

Cassone earned her bachelor's, master's and doctoral degrees in industrial engineering from Kansas State University.