November 4, 2015
Veterinary Health Center breaks ground on Equine Performance Testing Center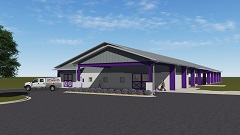 The Veterinary Health Center will host a groundbreaking ceremony for a $2.8 million state-of-the-art equine facility. Please join us at 1:30 p.m. today in E-107 Mosier Hall for a short presentation and groundbreaking ceremony celebrating our donors and the future of equine care at the Veterinary Health Center.
The Equine Performance Testing Center will offer an indoor riding arena with hard and soft footing to better evaluate and diagnose lameness issues in equine patients. Also included in the plans are an indoor examination area, radiology suite, farrier space and consultation room.
Nearly 50 percent of the roughly 2,500 services provided annually by the Veterinary Health Center equine clinicians involve performance-related disorders. The Equine Performance Testing Center will provide safe, year-round access to consistent footing and shelter for patients, clients, students and clinicians.
Private donations have funded more than $800,000 of the project.
More information about the availability of naming opportunities can be directed to Debbie Kirchhoff at debbiek@found.ksu.edu or 785-532-4378.