September 18, 2015
What area of K-State do you care about most?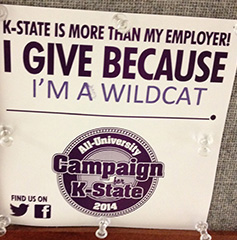 Cancer research. Student scholarships. University support staff. What area of K-State do you care about most? Designate your gift to that area today through the All-University Campaign.
Already know what your AUC gift will support? Tell us! Decorate your "I give because..." door sign enclosed in your All-University Campaign packet arriving soon in campus mail. Make it your own, then share your photo on social media using #KStateAUC. Your sign could be featured in K-State Today or K-State AUC Facebook and Twitter.
Every gift matters. Just by participating in All-University Campaign, you could inspire your colleagues and university alumni to invest in K-State as well!
Faculty and staff are celebrating 10 years of impact through AUC, showing Kansas State University is more than just an employer. We hope you'll join us from 4:30-6:30 p.m. Oct. 7 on the Anderson Hall lawn for a free, fun celebration of YOU and the difference you make at K-State through your philanthropic gifts!