September 10, 2015
Phi Kappa Phi centennial celebration Nov. 15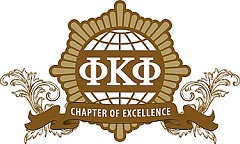 One hundred years ago the inaugural class of the K-State chapter of The Honor Society of Phi Kappa Phi founded a lasting legacy of learning and scholarship on the K-State campus. More than 10,000 K-Staters have been initiated into Phi Kappa Phi during the past century, contributing to the ranks of more than 1.25 million students, staff and scholars that comprise the nation's oldest and most selective honor society for all academic disciplines.
The Kansas State University chapter will host a centennial celebration from 5-7 p.m. Nov. 15 in the K-State Alumni Center. The meal cost is $30 per person.

We encourage all active and inactive members — anyone who has been inducted into Phi Kappa Phi at K-State or any other institution but is not currently paying dues — to please mark your calendars and email Cindy Logan, treasurer, at clogan@k-state.edu by Nov. 2 if you are interested in attending or donating to the event.