September 9, 2015
Grauer featured in 'EduCATion Today' Web series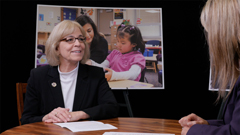 The College of Education recently released the latest webisode in its monthly series "EduCATion Today: The Issues & The Experts." The featured guest was award-winning engineer and educator Bette Grauer.
Grauer, assistant dean of retention, diversity and inclusion in the College of Engineering, is a licensed professional civil engineer and a former physics educator. She earned a bachelor's degree in civil engineering from K-State and worked in engineering for more than 15 years. She earned a bachelor's degree in secondary education-physics at K-State and a master's degree in curriculum and instruction at Wichita State University.
She taught secondary science for 12 years. Grauer completed her doctorate degree in curriculum and instruction at K-State where she also taught classes in the College of Education. She joined the College of Engineering as an assistant dean in 2011. In 2014, she received the American Society for Engineering Education Midwest Section's Outstanding Service Award.
Grauer addressed her college's retention efforts, programs to attract diverse students to the field, and the role teachers play in influencing and inspiring future engineers.
"We've done a lot of surveys of our students," Grauer said. "We've found that the secondary teacher is the person they most often cite as the person who interested them in engineering. They always bring up the secondary teacher that reached out to them."
Armed with both anecdotal evidence and research, Grauer understands the powerful connection between teachers and students. She developed a workshop for middle school and secondary teachers to help them find ways to incorporate engineering concepts and examples into the curriculum.
"We know the teacher is the key to student understanding," she said. "You can have all of the technology and information you want, but if you don't have an effective teacher, learning won't take place."
Grauer believes her engineering degree and experience would have been insufficient to ensure student success when she was teaching high school.
"It doesn't matter how much knowledge I had of engineering, math or science, I couldn't teach without the critical pedagogy that I learned," she said of her education degrees. "I think that's probably the most important area that I think should be emphasized here."
There is a shortage of engineers and Grauer's responsibilities include attracting multicultural students and women. She believes these groups are key to solving the great problems of our time.
"Engineering is all about creativity," she said. "The greater the diversity in engineering, the greater the diversity in creative thinking, critical thinking and problem solving. It all improves when you have diverse points of view."
Grauer's, and all "EduCATion Today" webisodes, can be found on the College of Education's website and YouTube channel. Previous guests include Robert Hachiya, assistant professor of educational leadership, who addressed school safety, and Raymond Doswell, vice president of the Negro Leagues Baseball Museum, who discussed the museum's 25-year relationship with the College of Education.