September 3, 2015
K-State First celebrates fifth birthday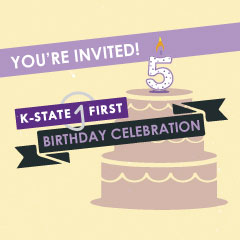 K-State First is celebrating the program's fifth year at K-State. Join us from 11:30 a.m. to 1 p.m. Tuesday, Sept. 15, in the Hemisphere Room of Hale Library for remarks by Provost Mason, birthday cake, refreshments and prizes.
K-State First is the university's first-year experience program, our way of helping students establish a great foundation for the rest of their college career.
We offer first-year seminar courses and Connecting Across Topics, or CAT, learning communities designed specifically for first-year students. We are the home for the K-State Book Network, the university's common reading program, and the Guide to Personal Success program, a one-on-one mentoring opportunity that connects new students with other members of the K-State family.
In everything we do, K-State First is deeply committed to academic excellence, community, diversity and the empowerment of students.