August 10, 2015
College of Business Administration hires Kurt Roberts to lead new Career Coach program
Submitted by Communications and Marketing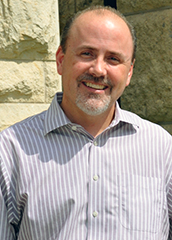 Following a nationwide search, the Kansas State University College of Business Administration has hired Kurt Roberts as its first-ever lead career coach.
Roberts comes to the university with 25 years of experience in the corporate sector, most recently as the campus recruiting leader for KPMG in Kansas City, where he has helped hundreds of students transition into their professional careers as interns and entry-level hires. He is a 1990 graduate of Kansas State University with a degree in accounting.
"Someone with Kurt's experience is exactly what we were looking for when we envisioned this position," said Stacy Kovar, associate dean for academic administration. "He is the perfect person to build this program into something that is a real competitive advantage for our students."
The Career Coach program will provide a personal, industry-experienced component to career planning as part of the college's Business Professional Advantage — which includes the Executive Mentor program and Professional Advantage certification. These programs have been integrated into the business student experience at Kansas State University, creating a clear path to success that takes a lot of the guesswork out of career preparation for students.
"I see an opportunity to leverage my recruiting experience in a more targeted way at K-State by helping students see what things look like on the employer side," Roberts said. "Being on the other side of recruiting for so long, I have a unique perspective in terms of helping students figure out how to do things the right way, and to make sure our students at K-State stand out in comparison to their peers from other schools."
Over the next few years, the college plans to expand the program with more coaches to provide more individualized and industry-specific advice based on careful assessment of the students' strengths and goals.
"Our biggest priority in the College of Business Administration at K-State is for our students to have successful, fulfilling careers," Kovar said. "Career coaches will help assure that every student can find an amazing career that is right for them, with personal guidance from professionals who have 'been there,' recruiting from the types of companies seeking to hire our graduates."
In addition to one-on-one career planning, a major function of the lead career coach will be providing a stronger connection with employers — helping the college better understand critical success factors for students in their first jobs, strengthening existing corporate partnerships, and building additional relationships that will benefit students and the college as a whole.
"It's important for us to be engaged with employers to understand what we need to do to help our students succeed," Roberts said. "That holds true not only with those employers we already have great relationships with now, but also going beyond that to identify potential employers that might not have K-State as one of their priority recruiting schools, and figuring out how we can get those companies engaged with the college to create more opportunities for our students."
The new program is made possible with the support of Paul and Sandra Edgerley, Brookline, Massachusetts, who have made a challenge matching gift of $5 million to the College of Business Administration, matching donations to the program from other donors at 50 percent.
"The success of the university should be measured in whether we graduate students who have the skills and character to build a happy and productive life," Paul Edgerley said. "Sandy and I believe an enhanced career planning and coaching effort in the college is critical to support students in matching their strengths, interests and lifestyle preferences to selecting and preparing for the right career path and connecting them with the right first employer."
Julie and Roger Davis, Chicago, Illinois, are the first to accept the Edgerleys' challenge, giving $500,000 to the new Career Coach program. Those interested in contributing to the program may contact the Kansas State University Foundation at 785-532-6266.