July 17, 2015
Food science student receives national scholarship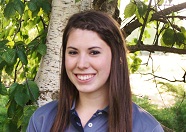 Amanda Wilder, a food science master's degree student, Meridian, Idaho, has been awarded a 2015 Meat Industry Suppliers Alliance scholarship. Randall Phebus, professor in animal science and industry, is her mentor.
This $10,000 national scholarship is awarded to outstanding students in the meat and food science disciplines working to promote and develop state-of-the-art technology and technical information to support the meat industry. Meat Industry Suppliers Alliance is a sector council within the Food Processing Suppliers Association, a global trade association serving suppliers to the food and beverage industries.
Her research on antimicrobial intervention processes for use in controlling foodborne pathogens during postharvest beef processing is supported by the U.S. Department of Agriculture, National Institute of Food and Agriculture Coordinated Agricultural Projects grant to control Shiga toxin-producing E. coli across the beef production-to-consumption continuum.