June 9, 2015
Sevart finalist at international conference student research competition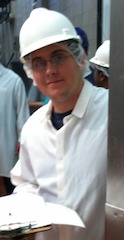 Nick Sevart, doctoral candidate in food science from Wichita, has been selected as a top 10 finalist in the Developing Scientist Competition in July at the International Association for Food Protection conference in Portland, Oregon.
Sevart will present his research poster "Evaluating the Efficacy of Three USDA-Approved Antimicrobial Sprays for Reducing Surrogate Shiga Toxin-Producing Escherichia coli (STEC) on Bob Veal Carcasses." This research is a component of the $25 million USDA Agriculture and Food Research Initiative supported Coordinated Agricultural Projects (CAP) grant, "Shiga-toxigenic Escherichia coli in the Beef Chain: Assessing and Mitigating the Risk by Translational Science, Education and Outreach."
Sevart leads several experiments under this grant with his major advisor Randall Phebus, professor of animal sciences and industry.