May 20, 2015
Global Food Systems update: Online education helps to meet food industry's growth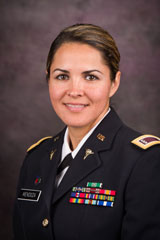 When Alma Mendoza retires from the U.S. Army, there's a pretty good chance she'll have a job waiting for her.
Mendoza, originally from Orange, California, has been stationed all over the world, taking online food science classes through Kansas State University Global Campus. After graduating from the online bachelor's program, she completed Kansas State's food science master's degree using a combination of on-campus and online courses. She's fully trained to perform her duties in the army, but also ready for the next stage of life.
"When I transferred to the Warrant Officer Corps, my position changed from food inspection specialist to food safety officer," Mendoza said. "Completing a degree has always been my goal, so distance education was the way to go."
Data from K-State Global Campus indicate that the number of students taking online food science courses from Kansas State has grown from 118 in 2010, to 185 in 2014 — an increase of 57 percent. Information from the U.S. Department of Labor indicates those students are on the right track.
According to the Labor Department's occupational outlook handbook, jobs in the agricultural and food sciences industry are estimated to grow 9 percent by the year 2022 — about 3,600 new jobs. Nearly 2,100 of those will be jobs in the food science industry.
Related, on May 11, U.S. Secretary of Agriculture Tom Vilsack announced a report indicating that 57,900 high-skilled jobs open up annually to college graduates in food, agriculture, renewable natural resources and environmental fields.
"A primary goal at K-State Global Campus is to serve students like Alma Mendoza who must work on their education while attending to other responsibilities in their lives," said Dave Stewart, associate dean of K-State Global Campus.
"Our goal is to make the university accessible to them and to provide the support they need to be successful students. If they are successful, they not only enhance their own lives; they also enrich their workplaces and communities. And they become great alumni of Kansas State University."
K-State Global Campus has offered online education to adult students and working professionals for nearly 50 years, including bachelor's, master's and doctoral degrees; and certificates to students in all 50 states and 17 countries.
For folks like Mendoza, the value is more simple: "A degree in food science is right on track if you truly enjoy your career, and that's why I earned this degree," she said.
Read a complete list of industry-related programs available through K-State Global Campus.