May 18, 2015
Future teachers present action research projects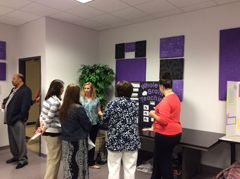 Forty undergraduate preservice teachers in the College of Education presented posters at the spring 2015 Undergraduate Action Research Poster Presentation.
Sally Yahnke, associate professor of curriculum and instruction and director of the Kansas State University Professional Development School Partnership, said this was an optional assignment based on the preservice teachers' experiences during their clinical semester. To conduct the research, future teachers had to select a focus, identify a research question, collect data, analyze the data, report their results and take informed action.
"Action research allows educators to better understand the students in their classroom," Yahnke said. "The results provide teachers with new knowledge and understanding about how to improve educational practices or resolve problems in their classrooms."
Yahnke said topics presented ranged from addressing behavioral issues to improving vocabulary instruction to teaching to the whole brain.
Debbie Mercer, dean of the College of Education, attended the event and had in-depth conversations with the presenters.
"I was impressed with the professionalism of our future teachers," Mercer said. "Their confidence was evident as they discussed the impact of their research on the students in their classes. Further, their research had an impact on their professional growth and learning. I'm proud that our students are so well prepared and know they will make a significant difference in children's lives."
Yahnke hopes a collection of abstracts will be written on some of these research projects and published in the College of Education's "Prairie Journal of Educational Research." In addition to adding to the body of knowledge and disseminating the information, this would directly support K-State 2025 research goals and objectives.
The preservice teachers involved in the poster presentation just completed their clinical semesters at Lincoln Elementary School and Sheridan Elementary School in Junction City; Morris Hill Elementary School and Ware Elementary School on Fort Riley; and Bergman Elementary School, Anthony and Eisenhower middle schools, and Manhattan High School in Manhattan.