May 4, 2015
G'Day, Fulbright: Information session on becoming a Fulbright scholar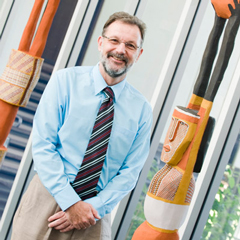 Are you interested in a Fulbright in Northern Australia? Find out how to make it happen at an information session from 3:30-5 p.m. Thursday, May 7, at the K-State Alumni Center in the Purple Pride Room.
Obtaining a Fulbright award requires advance planning, a good proposal, some negotiation, and a good host institution. Professor Peter Kell, head of the School of Education at Charles Darwin University in Australia's Northern Territory, is at the University of Illinois, Urbana-Champaign on his own Fulbright and will talk about how to plan and develop a Fulbright proposal.
His presentation focuses on Charles Darwin University and the Northern Territory, but the information is applicable to Fulbright opportunities everywhere for both faculty and students.