April 16, 2015
Take a stand, K-State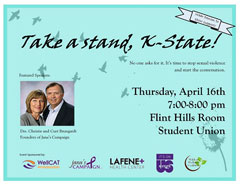 The WellCAT Ambassadors invite you to spend an evening with the speakers from Jana's Campaign from 7-8 p.m. Thursday, April 16, in the K-State Student Union's Flint Hills Room.
In honor of the late Jana Mackey and other victims of domestic violence, Christie Brungardt and Curt Brungardt founded Jana's Campaign Inc., along with a committed group of activists, with the single mission of reducing gender and relationship violence.
It is a conversation not to be missed. Come and join us to bring awareness to this issue. It's time to stop sexual violence and start the conversation.