February 11, 2015
Study abroad tour to China gives students in the College of Business Administration a global outlook on business
Submitted by Brent Fritzemeier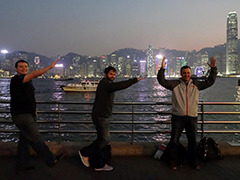 Nine students in K-State's College of Business Administration traveled to China to gain a better understanding of the global business world as part of a faculty-led study abroad program.
The group, which was led by associate professor of marketing Esther Swilley, spent 11 days visiting the sites and touring international businesses in Beijing and Hong Kong.
In Beijing, the students toured the Great Wall, Tiananmen Square, the Forbidden City and the Olympic Village, where they were given a lesson in Tai Chi. The group also had the opportunity to visit executives at Black & Veatch, as well as a guided tour of the John Deere factory in Tianjin.
During their time in Hong Kong the students were able to connect with K-State Alumnus Nathan Beemer, who works at Riot Games. He gave them a tour of the facility and a presentation of the marketing of the massively popular League of Legends video game. Visits to Victoria Peak, Lantau Island and a sampan boat ride gave students the opportunity to explore Hong Kong.
The College of Business Administration offers several study abroad experiences throughout the year. Read more information on study abroad programs in the College of Business Administration or email Swinder Janda at swinder@k-state.edu.