January 14, 2015
K-State Olathe adds to leadership, academic team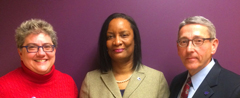 K-State Olathe has made key appointments to its administrative leadership and academic team. Janice Barrow will serve as associate dean of academic affairs and executive education, and Constantine "Dean" Vakas will serve as executive director of administration and finance. Additionally, Andi Witczak will serve as design thinker in residence to support educational innovation.
Barrow has spent the past 10 years building and managing graduate, professional and executive education programs in the Coles College of Business at Kennesaw State University. At Coles, she designed and executed open enrollment and in-house/customized programs with multinational corporations such as AT&T and GE Capital. Barrow was the founding president for an Atlanta-based chamber of commerce where she recruited and organized a board of 23 founding directors made up of community leaders, business owners, business professionals and members of civic associations. She has a doctorate in finance from the University of Houston, University Park.
Vakas was formerly associate vice president of finance and administration at Park University where he managed business and operations for 40 campus centers located throughout the U.S. He also has industry experience as a vice president of URS Corp., responsible for Kansas City-based engineering operations supporting federal, state and local government agencies as well private industry clients. He is a retired colonel in the U.S. Army, last serving as the director of academic operations for the Command and General Staff College at Fort Leavenworth. Vakas has multiple graduate degrees, including an MBA, from Syracuse University.
Witczak recently retired from the University of Kansas as the director for the center for civic and social responsibility where she facilitated community and business workshops. She has a Master of Fine Arts in graphic design and design history and a Bachelor of Fine Arts in graphic design from the University of Illinois, Urbana-Champaign. Witczak has held academic appointments at KU's Department of Design; University of Missouri, Columbia; Eastern Michigan University; and University of South Carolina, Columbia. She also has been in the private sector as a graphic designer and design studio manager at Hallmark Cards. At K-State Olathe, she will develop and work closely with the instructional and research teams to incorporate innovative educational approaches into creative programming.
"On behalf of K-State Olathe, I am pleased to welcome Janice, Dean and Andi to the team and to further strengthen connections between our university and regional businesses in greater Kansas City," said Prema Arasu, CEO and vice provost.